Baba's Johl
Bengali Ratatouille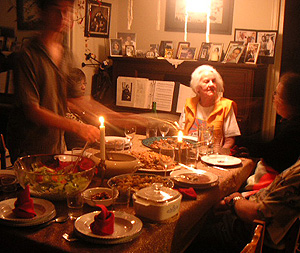 Do not take the quantities too seriously, but remember, as you are cooking from the right side of your brain, always use less spices if you are not sure. Too much spice can really spoil a dish. A little less spice just makes the dish more subtle. Remember that when you eat vegetables instead of meat, you are being much kinder to the planet, your body and your karma, and oh, your wallet too.



This johl recipe is for a big pot full of food. It's not a "curry" like that. It's an aromatic vegetable stew if you will.






Vegetables: Any four or five of the following:
eggplant (aubergine, baygun)
broccoli
tomato
mushroom
green pepper or red pepper
carrots
cauliflower
potatoes (sweet potatoes are good too) (with peel)
zucchini
squash
cucumber
whole peas in a pod
string beans
green bananas
okra (bindi)
Do not use: (that's how my Baba did it)
onions
garlic
celery
leeks
spring onions

Did you know that widows in India who are strict Hindus don't cook with garlic and onions?

Spices:
Asafoetida (hing)
Cumins seeds (jeera)
Cumin powder
Coriander powder (dhunya)
Turmeric powder (hulldi]
Cut all vegetables into pleasing shapes roughly the same size. For example, make them all the size of a french fry. :-)

Heat a reasonable amount of oil in a wok or deep frying pan or saucepan. When the oil is very hot, add hing and cumin seds, and roast these till well done. Should only take a minute really. Reduce heat to medium high.

Add all vegetables and sautée, turning gently from time to time, so that they may be well coated with the oil infusion. Keep the heat to a medium setting. The oil should be alive and you should hear it all sizzling crisply. Cooking is not only about smelling and looking, but also about listening. Listen up. :-)

Add cumin, coriander and turmeric powders. Flip vegetables gently till all is coated well with spices. Always treat vegetables with respect and tenderness. The love you put into your food is what makes it delicious. For that matter, treat your friends that way too. Reduce heat to a low to medium setting, and let stew for 10-15 minutes, till vegetables are tender.

Stir and turn once or twice. A lot of liquid should have come out of the vegetables, making it like a thick soup or stew. Serve with rice or chapatis, or cheat by using Mexican wheat tortillas.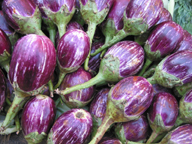 Back to Recipes

Back to Goddess Unplugged