Nirmal Kumar Roy, 1927-1995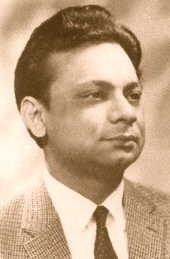 ---
A Short Biography
India & England
Nirmal Kumar Roy was born in a village somewhere in North India in 1927 of Kartic Chandra Roy and Radha Rani. At a very early age, his parents moved to Kanpur (probably written then as Cawnpore) where he lived till 1952. Like so many of his contemporaries, Nirmal went to England to seek education, adventure and wealth. There he met my mother, Kirsten Marie Buchert of Denmark, playing ping-pong I am told, and after much romance, a wedding, and travels around Europe returned with his wife and two children, Indrojit & Anita, to Kanpur, India to live and work as a manager in a textile factory.
Denmark & Canada
In 1963, with a third child, Sobita (a.k.a. Nina) the family moved to Denmark where they lived for three years. Opportunities were not good for work in his field of experience, so Nirmal went on to Canada in 1966 to again seek a new life. The family joined him, and in 1973, a fourth child, Maya, was born.

Nirmal had his own business for many years in the textile industry, but for the last 10 years prior to his death he led a quiet life as a result of his health. He is survived by an extended family that includes six grandchildren, three siblings (in Canada and in India) and many nephews and nieces.
My Baba
But first and foremost, he was my Baba. I loved him then and I love him now. We had many difficult times, about which stories can be told, and books be written. Like humanity, we had pain and pleasure. Baba lived ferociously, passionately and sometimes destructively. He was generous, a bon vivant, and a romantic. He suffered enormously throughout his life being the oldest son in an East Indian family, and tried valiantly in his later years to understand through rationale and philosophy the meaning of life.
A Gourmet for all Seasons
He is remembered for many reasons, but a highlight of his daily life and that of his family, will be his cooking. Baba was a fantastic cook of Bengali dishes. He learned to cook in England, where he had to choose between a steady diet of British cuisine and the food of the gods. His first attempts were throwing turmeric into oil with potatoes, but with time he put on feasts fit for kings. And we ate endless mountains of rice, pulao, dahl, alugobi, thorkari, johl, begun baja, shrimp curry, beef curry (though some of us gave it up reluctantly for vegetarianism), lamb curry, posto, zucchini and pumpkin curries, and more and more.

Baba, you have left this body a year ago today, January 20th, 1996. You are remembered every single day and your presence is felt in our words, actions and in our cooking. Thank you.
Om Shanti!